Details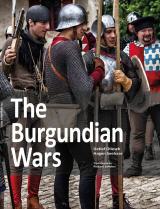 Englisch, von Detlef Ollesch und Hagen Seehase mit einem Vorwort von Thomas Vaucher, translated by Richard L. Sanders
Kartonierter Einband, 103 Seiten
Erschienen bei Zeughaus Verlag GmbH, Juli 2019
ISBN: 978-3-96360-014-2

Content

The "Burgundian Wars" are generally considered the campaigns of Charles the Bold, the last Duke of Burgundy, against the Swiss, but they were actually far more extensive. This book presents the European politics leading to the conflicts, then the Duke's campaigns against Liège starting in 1467, his siege of Neuss on the Rhine, the fighting in the Sundgau and Lorraine. It moves on to the battles against the Swiss staring in 1474, and finally addresses the conflict with the Duke of Lorraine in 1477.
Charles the Bold created an impressive army but lost many battles. His defeat and death at the Battle of Nancy in early 1477 and the resulting conflicts over the succession are of tremendous historical significance because they mark the beginning of the German-French relationship as "hereditary enemies".
The book recognizes the often-overlooked role of the allies of the Swiss and it also addresses the significance of the French and English kings fueling in this conflict, as well as the role of the Holy Roman Emperor. The authors present the driving forces behind the war against Charles the Bold and which factors led to his downfall. At the same time, they present some heretofore little-known details about the Burgundian Duke's military innovations and his death.
This book describes the battles and sieges in detail and comprehensively portrays the organization, troop strengths, equipment, artillery, tactics, etc. of Burgundy's and its opponents' armies.
The work is illustrated with numerous color contemporary prints, photos of international reenactment groups, maps, etc. It is based on extensive research into rare sources and also contains an extensive bibliography.